MH General Information
Malignant Hyperthermia (MH) is a reaction to commonly used anaesthesia drugs where the body produces too much heat. If it is not recognised and treated in its early stages, MH can lead to death. The risk of developing MH is associated with a change in the genes that are responsible for controlling the release of calcium in muscle cells.
An MH reaction is a rare event. MH is not contagious.
Triggering anaesthetics do not necessarily cause an MH crisis every time someone at risk is given them. MH is hereditary; it is passed on through the family. It affects males and females equally, and can occur in every ethnicity. A person with MH has a 50% chance of passing that risk on to each child that they have.
MH management
There is no cure for the predisposition to MH. The management of MH involves avoiding the triggering agents during anaesthesia.
Dantrolene is a drug that can help in the treatment of an MH crisis. Anywhere where triggering agents are used, dantrolene should be available.
Patients who are susceptible to MH can undergo anaesthesia safely. Non-triggering general anaesthesia with intravenous anaesthesia agents after purging the anaesthetic machine of all volatile residues is safe. Nitrous oxide (laughing gas) is safe. Local anaesthetics are safe. Spinal, epidural and other regional (numbing) anaesthetics are safe.
The only drugs necessary to avoid in MH are all volatile anaesthetic agents (including methoxyflurane – "the green whistle") and a muscle relaxant drug called suxamethonium (succinylcholine). These drugs would only be administered by an anaesthetist or in a medical emergency by appropriately trained personnel. They do not exist in tablet form.
People with MH can still lead an active life with no restrictions on normal activity including sports, such as rugby, netball and running marathons. There is an association between exertional heat stroke and MH, so we advise against extreme sporting events in high temperatures.
MH Diagnosis
THE MUSCLE BIOPSY
A specialised muscle biopsy which is called an In Vitro Contracture test (IVCT) is currently the only definitive test for MH. In some families a DNA (gene) test can be used to identify those at high risk, and these people do not need to have the muscle biopsy.
A negative DNA test does not exclude MH.
There are three common reasons for being referred to the Malignant Hyperthermia Unit for an IVCT.
You experienced a reaction to an anaesthetic that raised the suspicion of MH.
MH has been found in your family and there is no DNA test available in your family.
MH has been found in your family, a DNA test is available in your family but you have had a negative DNA test.
Other reasons for being referred to the MH Unit for biopsy
You, or a relative have a muscle disease that may be associated with a risk of MH, such as central core disease.
You developed heat stroke after exercise or muscle cell breakdown after exercise (rhabdomyolysis) and your neurologist has recommended a biopsy
You have had an incidental genetic finding which may indicate that you are at risk of MH
The IVCT is a highly specialised test and the muscle samples need to be taken to the MH lab within 15 minutes of the muscle biopsy in order for the tests to be reliable.
The four geographical locations of MH laboratories for testing in Australia and New Zealand are:
Melbourne, Victoria
Sydney, New South Wales
Perth, Western Australia
Palmerston North, New Zealand
Children must be at least 10 years of age and weigh more than 30kg before they can be tested. In practice we usually wait until they are older.
The muscle biopsy involves taking a sample of muscle from the outer part of the thigh. The biopsy is a surgical procedure through an incision (cut) in the skin which is usually 5–7 cm long.
The procedure is performed in the operating theatre and usually takes about 1 hour. A result is available within 2-3 hours.
A negative result means a person is not at risk of developing MH. For any future operations, no specific precautions relating to MH need be taken. Their children will not need testing or any special precautions. It is important to give the results of the muscle biopsy test to all treating practitioners so they are in no doubt about the risk of MH.
A positive result means a person is at risk of developing MH.
You should wear or carry some form of alert about your condition so that people are aware of it in an emergency. The unit you attend for your biopsy will help you with this.
THE GENETIC TEST
MH is a genetically inherited disorder. This means that it can be transferred from parent to child. In some families with MH, there is a "spelling mistake" (variant) in their DNA (the blueprint of body makeup) and this can be identified with a blood test. There are many different variants that have been found to cause MH. A list of these can be found on the European Malignant Hyperthermia Group website www.EMHG.org.
If one of these changes is found in your DNA your family members can access a genetic test for MH.
If no changes (variants) are identified, with your permission, blood and muscle can be stored in the laboratory and tested as new genetic variants are identified in the MH research community.
If you are a relative of a person who has already had a positive blood test, your blood can be examined to determine whether or not you have the same genetic change. If you have the same change (variant) you can be diagnosed as Malignant Hyperthermia Susceptible (MHS) without the need for a muscle biopsy. If you do not have the same change as your relative, you will still need a muscle biopsy to rule out malignant hyperthermia. This is because a negative genetic result is not a 100% guarantee that you are not at risk of MH.
Here is a flowchart for MH testing which summarises genetic testing and muscle biopsy. It is a complex area which your MH unit will help you understand.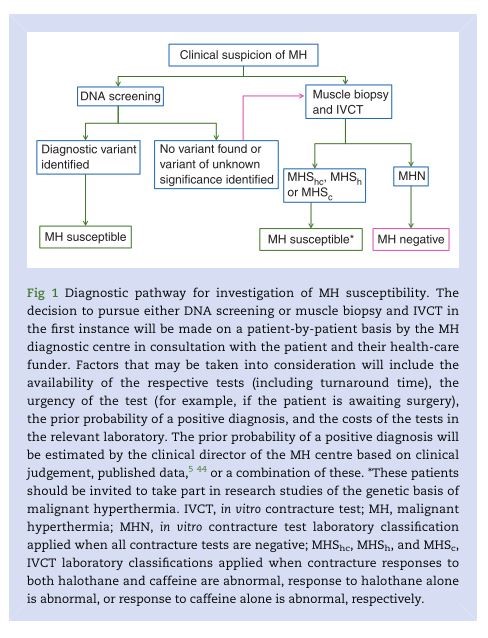 Reference: Br J Anaesth. 2015 Oct;115 (4):531-9. doi: 10.1093/bja/aev225. Epub 2015 Jul 18